Ensuring Every Child Has an "Equal Start."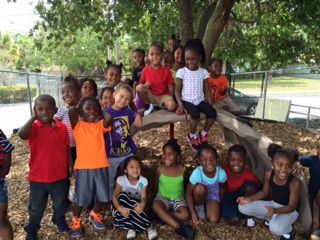 At the YWCA's Child Development Center, we are transforming the classroom experience through activity-based learning. Our Child Development Center is a kindergarten-readiness preschool that welcomes children aged 36 months - 5 years old.
We believe group and individual activity-based instruction enhances cultural awareness, social and practical life skills, sensory perception and basic preschool education and our lesson plans are professionally prepared to ready your child to enter kindergarten. We operate a National Association for the Education of Young Children (NAEYC) accredited child development center that provides developmentally appropriate child care.
The Child Development Center is located in Central Palm Beach County in the Historic Northwest neighborhood. There are three classrooms with the capacity to serve 57 children in a standard Full Day / Full Year program, providing services 225 days per school year.
We also believe that "a child's play is their work." With this in mind, the YWCA fosters young spirits with an exciting learning environment provided by highly trained instructors. We nurture curiosity with STEAM-inspired curricula that includes science experiments, art activities, Legos, costumes, books, active playground time, music, dance, computers and educational field trips.
Equal Start
Through our "Equal Start" initiative, we work with the entire family to build the child's self-confidence and improve the human condition of the family as well as the child. Equal Start incorporates confidence-building; STEAM-inspired curricula; activity-based learning; and social services support for the entire family into one unique program aimed at ensuring that  every child, regardless of race, ethnicity, gender, family situation, or socioeconomic status has an equal start to their education.
You Matter
Parents are encouraged to become involved with the Center's Policy and/or Parent Committees. We welcome parents/caregivers to share their feedback with our Center Director at any time.
Where we are:
1009 N. Sapodilla Avenue West Palm Beach, FL 33401
Enroll Today
Our young "graduates" have always excelled in local elementary schools. With great pride, we present our students to the community ready to succeed.
The YWCA does not want the cost of child development services to stand in the way of a working mother's career. That is why we strive to offer free or affordable, high quality child development services.
Caregivers may qualify for free child development services through Head Start. Under Head Start, children must be 3-5 years of age on or before September 1 of the current year. Our community engagement and family services specialist can help determine Head Start eligibility if you provide:
Child's birth certificate
Proof of family income (tax return)
Proof of residence
Current physical exam and shot records
Caregivers may qualify for reduced rates through Early Learning Coalition and Voluntary Pre-Kindergarten (VPK) vouchers. To receive VPK, the child must be 4 years old on or before September 1 of the current year. Our community engagement and family services specialist can help determine if you are eligible for Early Learning Coalition or VPK vouchers.
With a VPK voucher, the weekly cost of child development is $50 with VPK covering 3 hours from 9 am – noon. If you do not qualify for free or reduced childcare, we offer affordable childcare options as follows:
3-4 years: $150 per full week*
4-5 years: $140 per full week*
*Part-time hours are also available at reduced rates.
Field trips and learning excursions are included in weekly rate, along with daily breakfast, lunch and snack.
YWCA Palm Beach County's Child Development Services professionals have experience with children with disabilities, and children with disabilities are encouraged to apply.
All children may arrive as early as 7:30 am and must be picked up by 5:30 pm.